Las Vegas Motor Speedway Information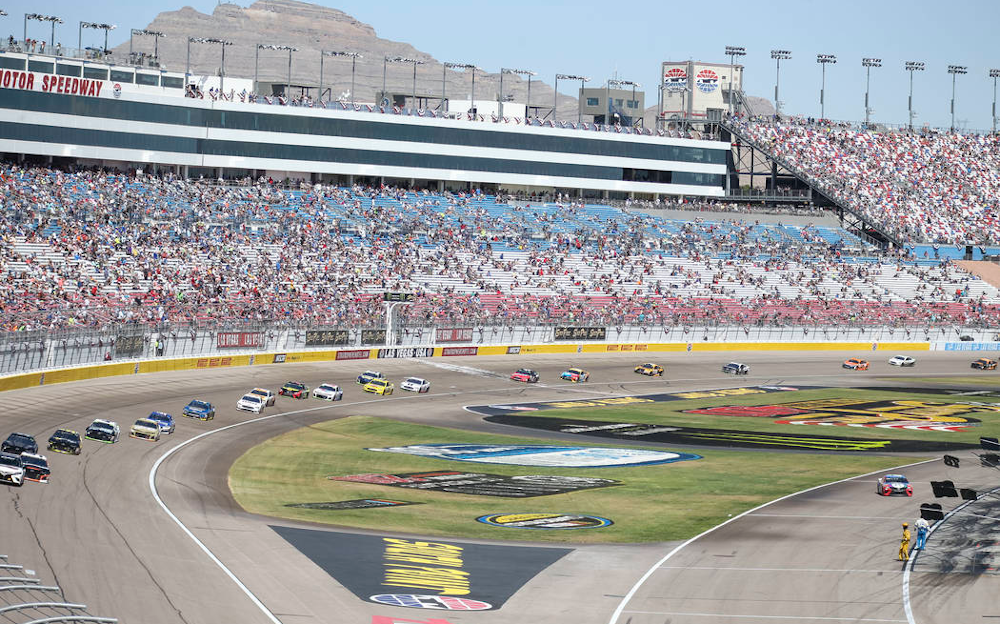 The Las Vegas Motor Speedway is a 1,200 acre complex of racing tracks for motorsports racing. The venue is 15 miles northeast of the world-famous Las Vegas Strip and is owned by Speedway Motorsports, Inc. Headquartered in Charlotte, North Carolina.
The Speedway was planned and developed following the closure of the Stardust International Raceway in 1971. The intent was to create a new racing facility in Las Vegas, originally called the Las Vegas Speedrome.
The Speedroome consisted of a road course and a drag strip that was opened in 1972. When Ralph Engelstad of the Imperial Palace purchased the track in 1989, it was renamed Las Vegas, Speedway Park. Englestad partnered with William Bennett of the Sahara Hotel and opened a brand new $72 million superspeedway on the site in 1996.
The first race at this new facility was an IndyCar event held on September 15 of 1996, which was won by Richie Hearn. A NASCAR Truck Series race followed in November of that same year. The new facility enjoyed success which led to a 1998 purchase by Speedway Motorsports for $215 million.
After this purchase, some of the greatest races came to the venue, including Mike Skinner's 2006 NASCAR victory after the venue was reopened to stock cars and Jeff Burton's Busch Series victory in March 2007. The venue has also played host to Insomniac Events' largest rave festival in North America, the Electric Daisy Carnival, and several others.
LVMS is considered by many the shining jewel of the desert, and one visit to the raceway track and facilities will tell you why.
See the below pages for further information on the Las Vegas Motor Speedway:
Las Vegas Motor Speedway Parking:
Find out more about parking at the Las Vegas Motor Speedway and driving information.
Ticket Policies:
Read about the ticket guarantees and authenticity policies when purchasing tickets via this website.
Las Vegas Motor Speedway Seating Chart:
View the Las Vegas Motor Speedway seating chart and the various seating options.